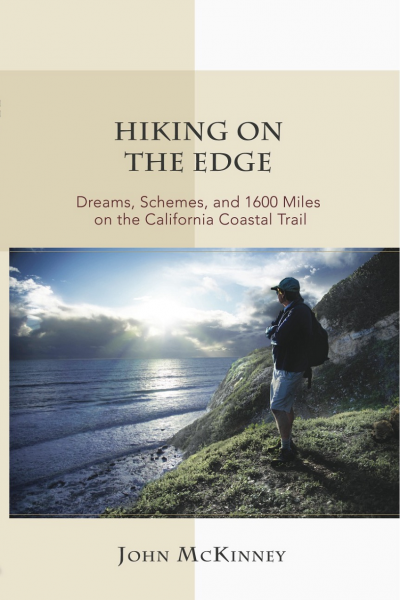 Hiking On
The Edge
Dreams, Schemes, and 1600 Miles on the California Coastal Trail
When John McKinney first planned his epic hike along the California coast, his purpose was strictly pedestrian: to pioneer a route for the new California Coastal Trail.
It all began over nachos and beer. Free-spirited board members of the California Coastal Trails Foundation met at a beachside cantina to chart annual progress toward realizing their dream: a 1600-mile-long trail on the edge of California. Despite their three years of mapping and promotional efforts, the California Coastal Trail remained all but unknown.
To literally and figuratively put the trail on the map, someone needs to hike the whole thing, board members decided. And that someone should be John McKinney, Eagle Scout, The Trailmaster, native son of the Golden State. He was perfect for the job: strong legs, an adventurous spirit, and "he doesn't have a real job—he's a writer."
No one, until McKinney agreed to do so, had ever hiked along the edge of the state to determine if a California Coastal Trail was even possible. Were the beaches passable at low tide? Could the bluffs be traveled without arrest for trespass? Could a trail be found through the rugged coastal mountains? The intrepid trailblazer found the answers to these questions—and to more profound ones that never occurred to him until he was on his challenging journey of discovery.
"Powerful, edgy and often very funny, John McKinney memorably shares the coast's natural wonders, skewers corporations, developers and those who don't share his sense of stewardship, and reminds us of the need for constant vigilance to protect this extraordinary meeting of land and sea."
–Susan Jordan, California Coastal Protection Network